12 Gates is a cross-denominational prayer altar in the Kingdom of Lord and is located at Sunrise House of Prayer, 16/F, Hub 8, 239 Temple Street, Jordan. In the middle there is 12 Gates Square. On the two sides there are 12 individual prayer rooms.
Shoes off and socks on;
freewill offering box (re. IV)
Each prayer room is also a gate that represents a tribe (for the list of tribes, cf. Revelation 7:5-8), corresponding time of watch and countries and regions covered.
(Note: Only intercessors on duty and those with prior consent are allowed to use during other times. For detailed rules of use, click here.)
(II) How to use 12 Gates to pray for revival of all nations?
a. One prayer room for one person only, and solely for prayer use. Each person may use the same room for a maximum of two hours. After two hours of use, please swap to another prayer room to continue to pray.
b. Prayer rooms can be used for personal prayer, or for interceding for revival of countries covered by that particular Gate, or any other regions. Users may also join the ongoing watch at 12 Gates Square.
c. You may use prayer resources provided in the prayer room. Please return them to the original place after use.
d. Please sign in and out with your name and time etc. on the registration sheet on the shelf.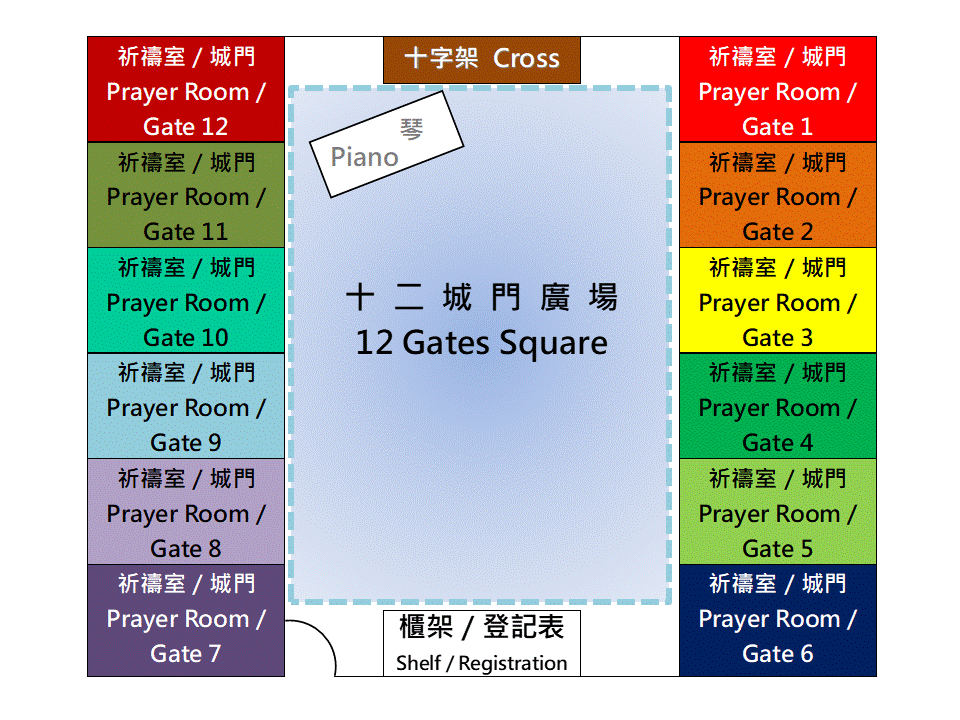 a. For the sole use of watching for all nations by pre-registered and committed users (unless special permission is granted). The following are ongoing sessions and focuses of watch:
b. Watch in the form of harp and bowl, on the basis of 3 W's: Worship, Word and Watch. The watch roster is posted on the side of the entrance, with themes of each session indicated.
c. Watch is arranged on two-hour basis. Each session requires at least one intercessor and one musician.
d. Reservation and registration is required before use (WhatsApp: 5147-2247; Tel: 2332-8361).
e. If you would like to join morning sacrifices online, please scan or click the QR code below and log in the corresponding meeting link at designated time.
(III) Prayer resources and links
(IV) How to support 12 Gates?
1. Register as a member of Sunrise House of Prayer (SHOP) and use 12 Gates to watch for and bless all nations (re. (V)).
2. Recommend brothers and sisters in Christ to make use of 12 Gates and bless churches.
3. Join "2021 Gideon 300" to make regular offering to support 12 Gates – a cross-denominational prayer altar in the Kingdom of Lord (please scan or click the QR code):
4. Make freewill offerings to support and bless 12 Gates and be a blessing to more brothers and sisters in Christ (please scan/click the QR code or put your offering in the offering box at 12 Gates):
To apply for SHOP membership, please scan or click the QR code and register online: